Seems like a good time for another of these monthly blogs. This blog is for readers and editors to share their feedback to help improve the wiki. I 'hijacked' Toji-san's blogs before, so I'm sure he won't mind if I steal an entire blog lol. Instead of polls however, this blog will include some other stuff.
Wiki stuff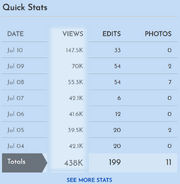 Let's start with some recent releases. Manga Volume 12 was released a few days ago. The special edition of the volume also includes an OAD. A new chapter was also translated. As admins, we have access to an Admin Dashboard, which also displays some quick stats as shown in the image. As you can see, the recent releases brought attention to the series, which also increased our views.
Trivia: If memory serves, we had ~600k–800k weekly views when the anime aired.
I also noticed that we are a featured community on the Fandom app. Check out this gif for reference (I tried uploading this to the wiki, but file size limits). Not sure how long we've been there, but it's great to be featured among other large and popular wikis. This does make me wonder how much of our weekly views come from phones/tablets. If a large portion of our views come from mobile users, we can put more effort to make our content more mobile-friendly.
With that being said, I think most of our content is mobile-friendly enough. Still, it wouldn't hurt to hear some opinions.
Finally, I want to promote the non-English Tensura wikis. We are currently linked to a Spanish, Polish, Brazilian Portuguese and Russian version of this wiki. These wikis are not that active compared to their English counterparts. If you have a good grasp of the language, we encourage you to help them out. Additionally, you are also welcome to translate our articles into different languages and create a new wiki for them. If there's decent content, we might request to link the wikis.
Fandom updates
Fandom (a.k.a Wikia) delivered interesting news over the past month. They announced plans to upgrade to a newer version of MediaWiki and a long-term covenant with the community. They also started a monthly highlight thing, as well as an official discord server. These are not directly related to this wiki, but I do recommend editors to take a look at them.
And with that, you have reached the end of this blog. Well, that was pretty text-heavy. Posting polls seems like an easier and faster option. In any case, feel free to comment any thoughts and feedback below.
Community content is available under
CC-BY-SA
unless otherwise noted.