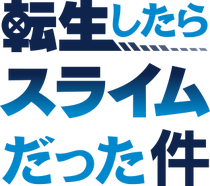 That Time I Got Reincarnated as a Slime (転生したらスライムだった件, Tensei Shitara Slime Datta Ken, Regarding Reincarnated to Slime), abbreviated as TenSura (転スラ, Ten Sura), is a light novel series written by Fuse and illustrated by Mitz Vah. It originally started as a web novel hosted on Shōsetsuka ni Narō between 2013-2016. The series was acquired by Micro Magazine, who published the first light novel volume in 2014. The series would later receive two manga adaptations and an anime television series adaptation by 8-Bit.
Plot
Lonely thirty-seven-year-old Satoru Mikami is stuck in a dead-end job, unhappy with his mundane life, but after dying at the hands of a robber, he awakens to a fresh start in a fantasy realm...as a slime monster! As he acclimates to his goopy new existence, his exploits with the other monsters set off a chain of events that will change his new world forever!
Media
Web Novel
Fuse originally began the series as a web novel hosted on Shōsetsuka ni Narō under the same name. It began on February 2013 and ended on January 2016.
Light Novel
The original web novel series was acquired for print publication by Micro Magazine, with illustrations by Mitz Vah. The first volume was released on May 30, 2014, with 13 volumes to date. Yen Press licensed the light novels for English release,[1] with the first volume released on December 19, 2017.
Manga
A manga adaptation was made by Taiki Kawakami and was published in Kodansha's Monthly Shōnen Sirius on March 26, 2015. Kodansha USA licensed the manga for English release.
A second manga, titled That Time I Got Reincarnated as a Slime: The Ways of Strolling in the Demon Country (転生したらスライムだった件~魔物の国の歩き方~, Tensei Shitara Slime Datta Ken: Mamono no Kuni no Arukigata), with art by Shō Okagiri, has been serialized on Micro Magazine's Comic Ride website since July 28, 2016.
Another spin-off manga titled Tensura Nikki (転スラ日記, Ten sura nikki) by Shiba began serializing on Shonen Sirius, with the first volume released on September 28, 2018. A spin-off manga titled Tensei Shitara Shachiku Datta Ken illustrated by Shizuku Akechi has been announced.[2]
Anime
An anime adaptation was first announced on March 2018.[3] It was later announced that the series will run for two cours,[4] and will air on October 2018.[5] The series will be simulcast by Crunchyroll,[6] with a simuldub by Funimation.[7] The anime will run for 24 episodes.[8] The simuldub will premiere on October 22, 2018.[9]
Games
References
External Links