Welcome to the Tensei Shitara Slime datta ken Wiki!

Warning! Articles in this wiki are likely to contain spoilers from the series! Read at your own risk!
Synopsis

| | |
| --- | --- |
| Lonely thirty-seven-year-old Satoru Mikami is stuck in a dead-end job, unhappy with his mundane life, but after dying at the hands of a robber, he awakens to a fresh start in a fantasy realm...as a slime monster! As he acclimates to his goopy new existence, his exploits with the other monsters set off a chain of events that will change his new world forever! | |
Characters

Featured Article

Yuuki Kagurazaka 「"神楽坂 優樹" "Kagurazaka Yūki" Mirimu Naava 」 formerly the Freedom Association's Grand Master, is one of the main antagonists of Tensei Shitara Slime datta ken. A twisted genius, and with the massive influence as the Grand Master, he had easily manipulated countless people whom he encountered the moment he arrived in this world.

Since his childhood, Yuuki was a genius. When he was still in the former world, he had harbored dangerous dreams of destroying the boring everyday life. It was just that, in the former world, he hadn't held a fascination for the world's destruction. Read more...
Contribute to this Wiki!

We have a lot of content on this wiki. With your help, we can make it even better.
For new editors, be sure to sign up for a free account. There are many benefits for doing so, as seen here. After that, you can get started and help out by editing typos, work on article stubs or leave feedback in comments and talk pages. You may also consider creating wanted pages.
If you need help, you can refer to the Help pages, FANDOM University or ask an admin.
Are you an experienced editor? Check out the Community Page or Special pages to see which areas of the wiki are in need of help.
Affiliated Sites

Please read the requirements before requesting affiliation with the wiki.
Poll

The anime is in its second arc, which character are you looking forward to see?
Discord Channel

The Tensei Shitara Slime datta ken Wiki has its own official Discord server. Click on the respective icon below to join us or connect using the server.
If you see this, your JavaScript might be disabled or DiscordIntegrator plugin isn't working. If the latter, please contact a wiki administrator.
Latest Episode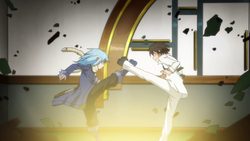 Yuuki Kagurazaka
Tempest celebrates its victory against Charybdis and treaty with Yuurazania where Rimuru and Milim have a conversation about the perks of becoming a Demon Lord. Suddenly Milim remembers she has something to do and leaves abruptly, promising to let the other Demon Lords know not to interfere with Tempest. That night, Rimuru dreams about Shizu's regret and his promise to help five children, thus deciding to head to Ingracia Kingdom with Ranga. There he meets with the Grandmaster of Freedom Association Yuuki Kagurazaka and talks about their manga, anime, games and ultimately Shizu and Rimuru's objective of arriving.
Latest Volumes

Twitter Feeds