That Time I Got Reincarnated as a Slime (転生したらスライムだった件, Tensei Shitara Slime Datta Ken) is an anime series based on the light novels and manga of the same name, although it only officially credits the manga as its source material.
Synopsis
Lonely thirty-seven-year-old Satoru Mikami is stuck in a dead-end job, unhappy with his mundane life, but after dying at the hands of a robber, he awakens to a fresh start in a fantasy realm...as a slime monster! As he acclimates to his goopy new existence, his exploits with the other monsters set off a chain of events that will change his new world!
Season 1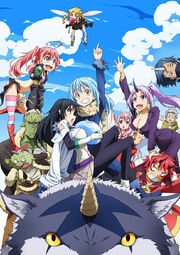 This anime is produced by 8-Bit and ran for 24 episodes and a special episode. This series aired from October 2, 2018 to March 26, 2019 and had an extra of 5 OADs afterwards. The series was simulcast by Crunchyroll, with a simuldub by Funimation that premiered on October 22, 2018. Muse Asia premiered all 24 + 1 special episode to audiences in Asia.
Season 2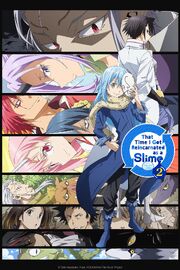 This series has received a second season announcement and will run for two split-cours, the first cour will premiere on January 12, 2021, and the second cour will premiere on July 2021. This series will be simulcast by Crunchyroll and MuseAsia, with a simuldub by Funimation that will premiere on February 16, 2021. The split-cour season was initially slated to air on October 2020 and April 2021, respectively, but was delayed due to COVID-19.[2][3][4][5][6][7][8] Audiences in Asia will also receive the second season simulcast on Youtube. [9][10]
A special episode was announced to premiered on January 5, 2021. The episode was to summarize every major event that had happened in Season 1. This episode is consider part of Season 2.
OADs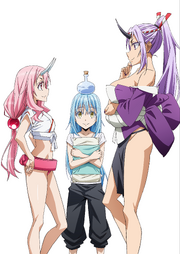 The first OAD was released on July 9, 2019, and the second OAD was released on December 4, 2019. The OADs were simulcast on Crunchyroll worldwide outside of Asia.[11][12] A simuldub of the OADs by Funimation premiered on August 1, 2019, and January 22, 2020. [13][14][15]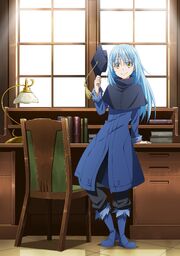 A three-part OAD series, written by Fuse, was announced to start premiere on March 27, 2020. The second premiered on July 9, 2020, and the third premiered on November 27, 2020.[16][17][18] Funimation announced a simuldub of the OADs the first and second premiered on November 13, 2020 and third premiered on January 12, 2021.[19][20]
The Slime Diaries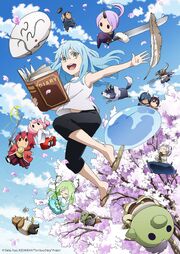 An anime adaptation of The Slime Diaries: That Time I Got Reincarnated as a Slime was first announced on March 22, 2020. It was later announced that the series will premiere in April 2021. It was initially slated to premiere in January 2021 but was delayed due to COVID-19. The series will be simulcast by Crunchyroll.[21][22][23]
Season 1 Trailers
Season 2 Trailers
External links
References